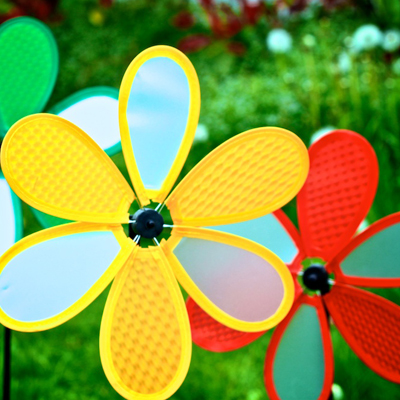 Image courtesy of the artist.
Mark Linnane: Wind Garden
"I'm delighted that Big House has its very own miniature wind farm – one that I think will generate smiles if not energy!"




- Festival Director. 
The grounds at Castletown gets a splash of colour and movement with this magical installation. Wind Garden is a field planted with 500 childrens' windmills. Each windmill forms part of a sculptural picture, in a carefully designed landscape that brings a unique mix of colour, sound and movement to the gardens at BIG HOUSE.
Rear Lawn. All Day. Every Day.
—
About Mark Linnane
Mark Linnane is interested in simple systems that generate rich output and that can be realized in software, moving image, sound and assemblages of objects. Previous work includes Splitzo, a cycle of video pieces made in collaboration with the improvised music ensemble, Cortisol (2010) that was selected for Punto y Raya Madrid 2011, and Walk Don't Run (2008), a dance film in association with Catapult Dance Company commissioned by Project Arts Centre. He also made Art of Decision (2005-2006), a feature documentary commissioned by the Department of Electronic and Electrical Engineering, Trinity College.
—
Website | @MarkLinnane | vimeo