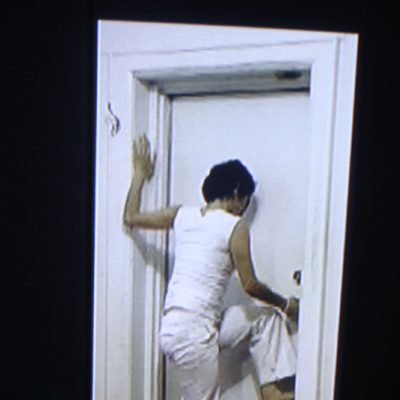 image courtesy of artist
Astrid Walsh: Exit
"Astrid's work is a beautifully simple exploration of the endless and forever surprising cycle of life."




- Festival Director.
We are all just passing through. Exit explores the memory of a house like Castletown, and the people who have visited it through its 300 years. In Astrid Walsh's work projections often act as memories or traces of past events. They co-exist with the present in a ghostly way. But in this case the projection is also a nod to the future and the ultimate un-known that is death.
Main House, Level 1, Pastel Room, @ 1.00 –4.00, 4.30 – 5.30 & 6.00 – 9.30 Every Day
—
About Astrid Walsh
Astrid Walsh was born in Germany and was brought up in Dublin. Her background is Fine Art which she studied in Dun Laoghaire Institute of Art and Design. She was introduced to the world of contemporary dance through Shelly Nafshi and this added a collaborative element to her way of working. In 2008 Astrid received the Laois Patronage Award, which allowed her to travel to Canada to expand on this work. The time spent with Shelly and her twin sister Kerstin, who often features directly or indirectly in her work, resulted in Beloved All is Well (2010), a solo exhibition that took place in Abbeyleix, and in Es hat so sollen sein (2011) in the Riverbank Arts Centre in Kildare. Since then Astrid has moved to County Cork and her practice centres around both drawing and projection work.
—