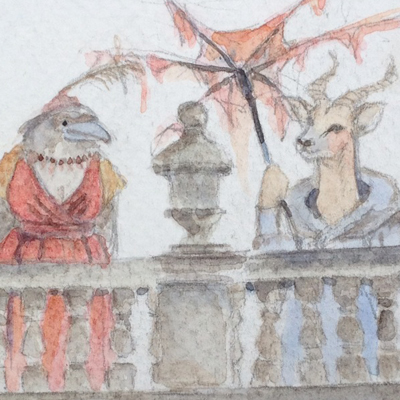 Image courtesy of artist
Almha Roche: Ladies of the House
"Almha's ladies are a wonderful flight of fancy, with an unsettling edge. They will welcome you with a stern eye." 




- Festival Director. 
Two extraordinary ladies have come to visit Castletown. These delightful and elegant creatures make everybody stop and stare. But looking back at us from their perch up high, they seem utterly unimpressed with the noisy human crowds below. Deer Miss is a wide-eyed, delicate young thing, pretty and demure in her best dress and tattered parasol. Her companion, Lady Crow is a matronly figure in evening dress with an air of authority.   Together they have a birds eye view over the festival, and a safe perch should the mayhem prove too exciting!
Visual artist Almha Roche has rolled Beauty and the Beast into one, with her fantastical sculptural installation for BIG HOUSE. These specially commissioned sculptures add a touch of the surreal to the landscape at Castletown House, and make us wonder about the divide between humanity and the animal kingdom.
Main House, Level 1, Pastel Room, @ 1.00 –4.00, 4.30 – 5.30 & 6.00 – 9.30 Every Day
—
About Almha Roche
Almha Roche is an artist based in Co. Wicklow. Over the past 20 years her work has spanned diverse media and themes, and has included painting, mixed-media, performance, site-specific installation and cross-over collaborative work created in partnership with other arts practitioners.
Her work has focused on themes of universal human experience including our sense of identity and how we relate to place and history. Stylistically and thematically her art accesses subconscious thought, self-perceptions and collective memory. She has exhibited widely, in Ireland and in Europe. In Ireland exhibits include the Mermaid Arts Centre, Project Arts Centre, IMMA, Linenhall Arts Centre, Belltable Arts Centre and the Paul Kane Gallery. She is represented by the Paul Kane Gallery.
—