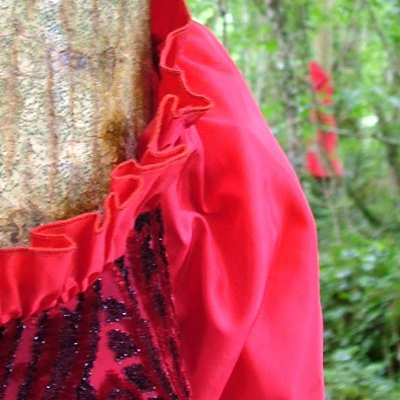 Image courtesy of artist
Áine Phillips: Tree Girls
"You'll want to take a closer look at this beautiful work that hides deeper meanings behind the pretty silk and frills." 




- Festival Director.
The woods are dressed in silk and taffeta. At first glance this phantom‐like work strikes you as a surprising apparition – enchanting and uncanny. Look deeper and the layers reveal themselves. The "Tree Girls" installation is a memorial to lost girls, monumentalising individuals who could otherwise be forgotten.
All over grounds. All Day. Every Day.
—
About Áine Phillips
Áine has been making performance and live art in Ireland and internationally since the late 80's. In her work she aims to link autobiographic themes, actions and images with wider social and political realities. She has created work for diverse contexts including TROUBLE Festival Les Halles Brussels, City Of Women Festival Ljubljana, NON Festival Bergen, Kyoto Art Centre, EV+A Limerick, Galway Arts Centre, Hugh Lane Gallery Dublin and Kilkenny Arts Festival.
—
Spectral from Aine Phillips on Vimeo.