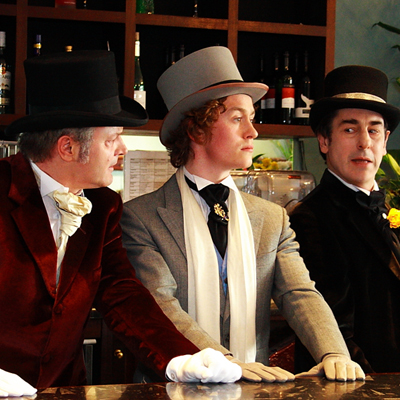 Image courtesy of the artist.
Wonderland / Bewleys Café Theatre: The Picture Of Dorian Gray
"This is a gorgeous piece of theatre that grips you from the start. It's a joy to watch these three performers bring this classic story to life in all its glory."




- Festival Director. 
This Oscar Wilde classic  is set in the decadent world of Victorian London, where the socialite Lord Henry Wotton seduces the beautifully boyish Dorian Gray into a hedonistic life of indulgence, vice and dissipation. Infatuated by Basil Hallward's portrait, Dorian makes a Faustian pact that he will remain forever young while the picture charts his decline into sin and ultimate self-destruction.
The Picture of Dorian Gray moves from drawing room comedy to Gothic horror and is a compelling and hugely entertaining theatrical event. It is directed by Alice Coghlan whose previous credits for Wonderland include The Miser, La Locandiera and Gulliver's Travels and it features Gate Theatre regulars Michael James Ford and Michael Winder, alongside Simon Coury, a veteran of the Royal Shakespeare Company.
"An exquisite adaptation" The Sunday Times
" …flawlessly executed, commanding performances" The Dubliner
"An invigorating, luxurious piece of drama" Totally Dublin
Stable Wing, Level 2, Hunting Room @ 7.00 Every Day.
—
About Wonderland Productions
Wonderland Productions are an Irish based company who have presented a range of site specific performances and workshops across the country. Since its inauguration in 2003, the company has staged over five hundred successful performances. Recent credits include Sylvia's Quest, an audio experience on headphones with two live actresses, and a self guided tour of James Joyce's Dubliners with Dublin One City One Book.
—