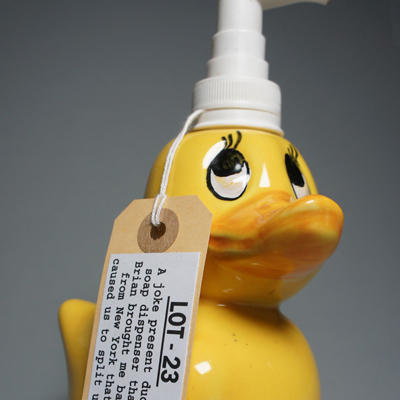 Image courtesy of artist
Michael Trainor: Auction of Important Things
"Michael is one of life's wonderful eccentrics. He's also smart as a whip and funny to boot. So, you're guaranteed this will be an auction unlike any you've seen before. "




- Festival Director. 
This is an auction of the stuff of life – a real auction in which the audience are the bidders. We all have possessions that mean something to us. The Auction of Important Things tells the stories of three ordinary people's lives through the things they kept in their own 'stately homes'. The objects may seem commonplace or valueless but behind each one is a tale of love, secrecy, joy, regret, a moment in time – a life fully lived. Are you willing to bid for the contents of someone's life, the things which they valued most?
Main House, Level 1, Entrance Hall, @ 3.30. Every Day (Viewing from 12).
—
About Michael Trainor
Michael Trainor is a professional artist with a long and successful track record of complex projects involving public interaction, with 70 commissions ranging from Liverpool Capital of Culture to the (ongoing and still touring) Bathing Beauties Project for Lincolnshire County Council. In previous lives Michael has been the owner of a café and a junk shop and later became a TV 'antiques expert' but it is the human stories behind the objects that always interested him. He once sold everything he owned to a museum making him one of the very few people to have all their possessions on permanent display without actually being dead. He was selected as the Artist Fellow on the Clore Leadership Programme 2011/12. His work often involves light, people, stuff and very long periods of time. He is one of the Trainor Triplets.
—