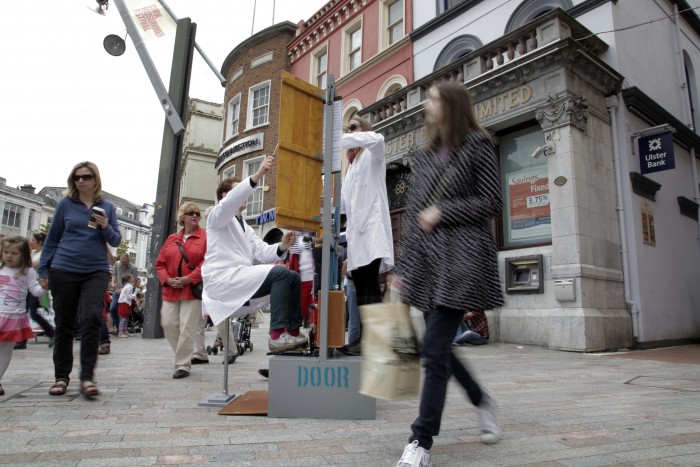 Image courtesy of the artist.
George Higgs: Door
"George's marvelous invention reminds me of the old joke: "When is a door not a door…". All I'll say is this door has to be seen to be believed."




- Festival Director. 
Multi-talented composer (and sometime inventor) George Higgs opens the door to a whole new way of making music. Mounted on wheels and equipped with a miniature orchestra, this door is being trundled to a spot near you for an impromptu concert. George is joined by musicians Matthew Jacobson (drummer) and Kate Ellis (cellist) who will perform a musical composition full of powerful rhythms, melody and harmony. Door premiered at Cork Midsummer Festival in 2012, and has since been performed around Ireland and the United States.
Stable Wing, Level 1, Stables @2pm Every Day & All over grounds @ 2.30 – 6.00 Every Day.

—
About George Higgs
George Higgs is a composer whose work comprises opera, chamber work, experimental electronics and music for instruments of his own making. Recent 'Higgstruments' include The Jimmy Rig Slip Jig – where performers assemble an instrument in the act of playing it, and The Joculator – a human-powered electro-acoustic vehicle which George pedals around while composing music. His true masterpiece, however, is the Kahoogaphone – an instrument especially designed not to make a sound. George is accompanied by Kate Ellis (co-director of the Crash Ensemble and co-curator of Kaleidoscope) and Matthew Jacobson who has performed with among others: ZOID, ORIGAMI Quartet, Ronan Guilfoyle's Lingua Franca and Blowout Fracture.  George Higgs is currently working on a new opera, The Syntonic Street Experiment, which will premiere at the 2014 Cork Midsummer Festival.
—