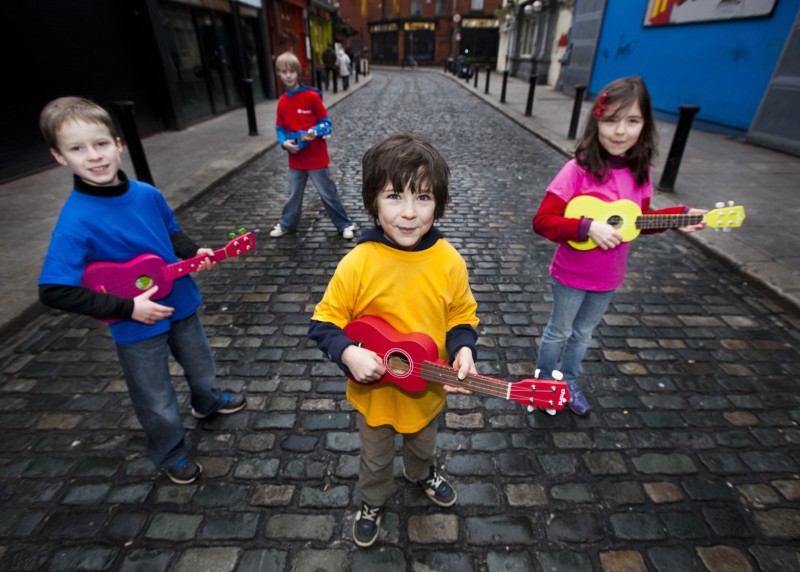 Image courtesy of the artist.
The Ark: Ukulele Céilí
"I'm expecting a stampede of little feet to sign up for this fabulous workshop. We won't transform them into Lords and Ladies of the Dance in an afternoon, but we do promise they'll have an amazing time."
- Festival Director
Irish dancing and music and the sounds of the Pacific come together for this "fun-guaranteed" workshop. Learn to play a well-known céilí tune on the ukulele, the little guitar-like folk instrument from the Pacific islands. You'll also learn the steps of an Irish céilí dance to go with the music. Towards the end of the workshop we'll bring it all together for a big Ukulele Céilí –  we promise fun like you've never had before! You don't need to bring a ukulele as we will provide them tuned and ready for you on the day!
—
This workshop is suitable for children 7+
Pre-registration is advised.
In order to register for this workshop, please call: 01 6272827 or email: hello@bighouse.ie once you have bought your festival ticket. You will need your ticket number to secure a place.
This workshop is suitable for all children aged 7+. Spaces will be limited so in order to avoid disappointment it is advisable to book your place. There will be limited availablity on the day and these place will be issued on a first come first served basis subject to availability.
Stables, Level 2 @ 12.30 & 4.00 Every Day. Limited Admission.
—
About The Ark
The Ark is a unique, purpose-built cultural centre in the heart of Dublin's Temple Bar, where children aged 2 -12 can explore theatre, music, literature, art, film, dance and more. Our programme of world-class events promise a different experience every visit!
—
Website | facebook | @TheArkDublin | Youtube | Google+