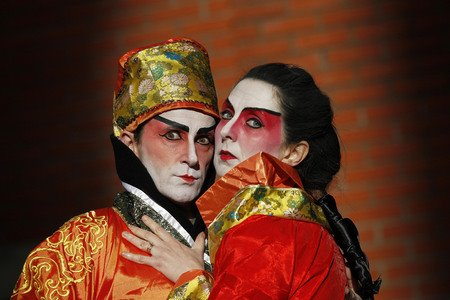 Image courtesy of the artist.
Opera in the Open: Tosca
"Tosca is a personal favourite, and you'll rarely have a chance to experience Puccini's perfect melodies in such a perfect setting."




- Festival Director. 
Love, betrayal and some of opera's best-loved melodies, combine to make Tosca a classic. Opera in the Open perform an hour-long version of Puccini's sexually charged, edge of your seat thriller using Castletown's beautiful façade as its setting. In Tosca, a great singer, a rebellious painter and a corrupt police chief engage in a deadly test of wills. Originally set against the splendour of 19th century Rome, Opera in the Open re-create the atmosphere of this drama against this Castletown's majestic backdrop.
Front of House, Colonnades, @ 1.30 Every Day.
—
About Opera in the Open
Opera in the Open was an initiative of Dublin City Council beginning in August 2000 with the staging of a season of abridged open-air operas at Wood Quay, Dublin. The season was an immediate success and is now in its 14th year. The company, under its artistic and musical director David Wray and current directors Morgan Crowley and Eoin Cannon have developed a production style that is inclusive, approachable and sometimes challenging. Highlights during these years have been a critically acclaimed CD produced to celebrate the company's 10th anniversary and a special production of Pucinni's Turandot staged in Meeting House Square, Temple Bar for the Chinese New Year Festival.

Opera in the Open – Hansel & Gretel

Opera in the Open – Magic Flute
—
Website Morgan Crowley | Simon Morgan |  David Wray | @SimonMorganIRL | facebook