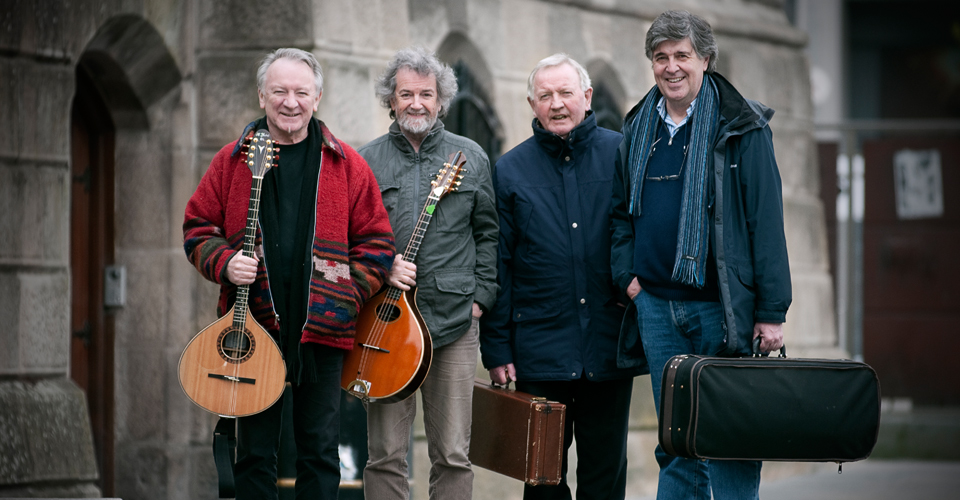 Image courtesy of artist
LAPD – aka Liam O'Flynn, Andy Irvine, Paddy Glackin & Dónal Lunny: Mon 5th only
"These guys are true legends of Irish music with a stunning back catalogue of tunes guaranteed to get feet stomping and hearts beating. Between the jigs and the reels, it doesn't get much better than this."




- Festival Director. 
LAPD is the affectionate acronym attached to a quartet of Irish music legends who have recently graced us with their combined presence and beautiful music. They are three-quarters Planxty and the original Bothy Band fiddler, also collectively featuring past and present members of Moving Hearts, Sweeney's Men, Mozaik, Patrick Street and numerous other ensembles of the past five plus decades of Irish music. In the 60s and 70s they were trailblazers and groundbreakers, and when you see them onstage in 2013, bar the odd grey hair, not a lot has changed.
Liam O'Flynn: Master piper of Ireland. Heir to the uilleann pipes of Willie Clancy and Seamus Ennis. Master of this deep complex instrument, Liam O'Flynn has performed in all genres, beside great collaborators such as Seamus Heaney, with orchestras, or simply alone in the ancient reverie of the drone & chanter. Alongside these gentlemen he can re-open much of the repertoire of songs, slow-airs and dances that they began to develop in 1972 with Planxty and which has been expanding ever since.
Andy Irvine: Andy Irvine turned 70 in 2011 and performed two career-spanning concerts in June in Vicar Street, and proving, as always, he is ultimate rover, flew off after the second night to the folk clubs of Argentina. Andy, inspired by his hero Woody Guthrie, is a socialist folk icon and so much more; a brilliant collaborator, a stunning instrumentalist, an encyclopedic song-machine, and a master of between-song banter! Although English born we consider him a national treasure.
Paddy Glackin: Perhaps the dark horse of the LAPD squad, Paddy Glackin was the original fiddler of the Bothy Band when they were original known as Seachtair. But he took a position as Sports Editor in RTE rather than a life on the road. Nonetheless, he has etched a reputation as one of our premier fiddlers, steely yet divinely delicate. He is Dublin born but adopted his father's Donegal stylings and has taken a unique route from 1973 All-Ireland fiddle champion to the groundbreaking experimental-trad treasure Hidden Ground with Jolyon Jackson in 1980, not to mention performing with minimalist icon John Cage, and coming full circle of sorts with his old peers of the 1970s in LAPD.
Dónal Lunny: What can you say about this man? Emmet Spiceland, Planxty, The Bothy Band, Moving Hearts, Mulligan Records, producer, arranger, curator, soundtracker, wisecracker and bouzouki icon. A true artist and a phenomenal collaborator, Dónal has nurtured Irish music for many decades. He is constantly pushing it forward and with no less gusto today than in the hey-day of the seminal bands he was a member of throughout his career.
And there you have LAPD. They lit up the Electric Picnic, they have mesmerized Vicar Street. The few concerts they have played to date have been extraordinary events including ancient tunes, old songs, funny stories, and most importantly, brand new arrangements.
Rear Lawn @ 6.30 Monday 5th August only
—