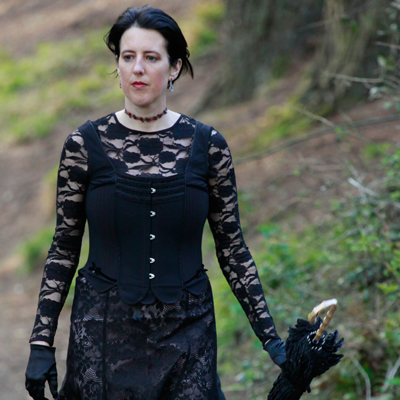 Image courtesy of artist
Tríona Ní Dhuibhir: Jezebel
"I've seen Tríona unleash her inner vamp on cabaret tunes and can't wait to see what she does to country songs."




- Festival Director
Annie took the name of Jezebel for twenty years.  She roamed from town to town.  She stitched and mended for her keep.  When folks came to know her and asked who she was and where she was from, she upped and gone.
Close to the town of Belzoni near Yazoo City Annie met Mary.  They share their stories.  For the first time since leaving home, Annie spoke her real name. Songstress Tríona Ní Dhuibhir tells the story of Mary and Annie through a back catalogue of country-tinged classics.  This musical performance is inspired by the legend of Jezebel, historically a queen and peacemaker – later demonised as the wanton woman, but in folktales of America's deep South – Jezebel is the Devil's wife.
Stable Wing, Level 1, Stables @ 2.30 Every Day.
—
About Tríona Ní Dhuibhir
Tríona has performed as a singer for many years in different genres and contexts including choral, cabaret, country and folk.  She played Dublin Fringe Festival with her one woman cabaret show Twelve Songs at the Cobalt Café and Tríona Ní Díva with Cian Boylan and band at Bewley's Café Theatre. She performed with Cantóirí choir and alongside choral performances sang solo numbers at the Village, the Helix, Whelan's and at Dublin Fringe Festival's Spiegeltent.  Tríona has a first class honours MA from the Irish World Academy of Music and Dance.
—