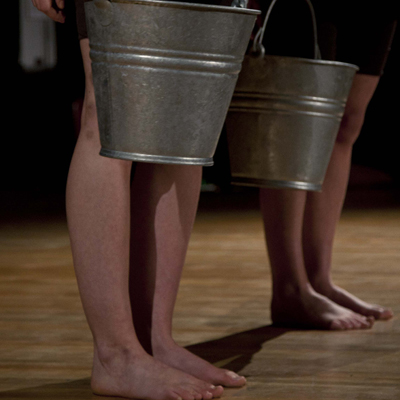 Image courtesy of artist
Laura Murphy: Grounds
"Laura is one of Ireland's most exciting choreographers and I'm thrilled that she's returning to Castletown to continue the beautiful work she began on the

SPACE Programme."




- Festival Director. 
Work is never done.  This live dance performance explores how the raw simplicity of physical tasks affects two working women. What is suggested as "work" is challenged through the medium of dance in the repetition of daily chores and movements which are somewhat absurd. Quirky scenes from daily life emerge and disappear. Grounds is a live site-specific dance performance/installation involving two dancers and one opera singer.
Stables Level 1 @ 1.30 Every Day
Rear Lawn @ 4.00 Every Day
Front of House @ 5.00 Every Day
—
About Laura Murphy & Catherine Young
Laura Murphy: Choreographer & Dancer
As a professional dancer, Laura has worked with various independent choreographers, & performed at leading events such as Biennale de Lyon (2009) with Italian Company, DAS. Laura's choreographic work has been performed internationally in locations including New York, Canada, Sweden, Romania, Latvia & Iceland, alongside various national venues. Laura has been recently selected for A European Mobility and Artistic Exchange Dance Programme for 2012-1013 with a focus on Bodies & Cities and as Cork's Dancer in Residence at The Firkin Crane, Cork, Ireland (2012-2013).
Catherine Young: Dancer
Catherine Young is Dancer/Choreographer in Residence at Siamsa Tire (The National Folk Theatre of Ireland) and is director of YoCo/Catherine Young Dance. She is also Artistic Director of Kerry Youth Dance Theatre and co-curator of TOCHT Dance Festival.
—