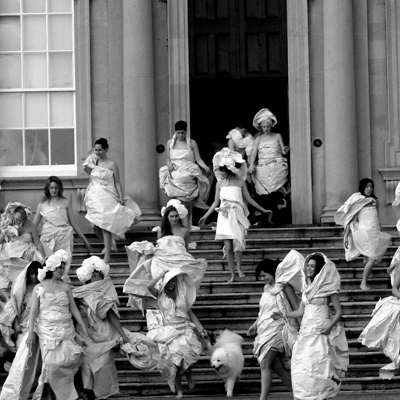 Image courtesy of artist
Oisín Byrne: The Paper Ball
"Take a gaggle of beautiful people, dress them in exquisite ball gowns made from paper and release them in the magical surroundings of Castletown and you've got a Paper Ball! Oisin Byrne is an alumnus from our artist's residency the SPACE Programme – so it of particular pleasure to welcome him back."


- Festival Director. 
'The Paper Ball' was conceived and directed by Oisín Byrne, filmed by cinematographer Andrew Legge and involved a cast of over 100 participant performers on the steps of Castletown House. Filmed entirely on 16mm Bolex cameras in 2010, and edited on a Steenbeck, 'The Paper Ball' has been screened selectively including at the Irish Film Institute, Dublin. This will be the first screening of this work in Castletown House.
 Main House, Staircase, All Day, Every Day.
—
About Oisín Byrne 
Dublin-based Oisín Byrne's practice incorporates drawing, portraiture, performance, installation and film. His work documents, engages and activates a broad community. He recently won the Uniquely Dublin Competition overall prize with Gary Farrelly for their short film entitled Dublin City: A Radical Science Guide. Oisín will exhibiting work in The Temptation of AA Bronson in Witte de With Rotterdam this September, and in The Line of Beauty at the Irish Museum of Modern Art in October.
—