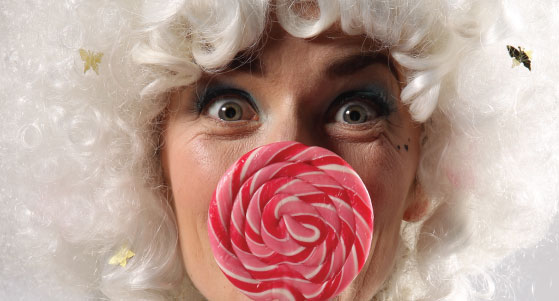 Family & Kids
BIG HOUSE is the perfect setting for the youngest arts lovers to play explore and absorb the cultural carnival on offer, to be inspired and let their imaginations run wild… Working with some of the best artists and arts organisations in Ireland we have some real treats and surprises.
The Ark Cultural Centre for Children will present the Ukulele Céilí workshop. Which brings the traditional Céilí to life with a uke twist from the pacific. Children will get the chance to dance; play and all join in together for one big hooli. Advance registration available for this here.
This will not be the only dance display from young people for the festival as Aoife Courtney and her gang of young local dancers take to the meadows rather than the skies and recreate a fusion of childhood games and flocks of flying birds in a dance performance called Flock.
The Irish Museum of Modern art and the artist Rhona Byrne will be presenting 'Garden Folly'. This is an exhibition that needs you! It is basically every child's dream exhibition, no matter how old. You are invited to play with and build forts, houses, fairy castles, monsters dens or whatever you heart desires – the only limit to this piece is your imagination.
For smaller ones we will have a sand-pit play area in the farmyard, with plenty places for parents to relax while the kids are at the 'beach'!
And if you're in the mood for some visual treats then we suggest exploring Mark Linannes Wind Garden and Niamh Lunnys Washing Line. Both of these artists are turning the ordinary into something extraordinary – causing us to question how we see and think about seemingly ordinary things and more importantly how we can use them to create something new.
The unexpected is a big feature of this festival and we won't be letting up with the surprises all day – you are probably not expecting a horse to be here, and would never expect a horse to act…  so you definitely won't be expecting Farm. This is a beautiful, strong and moving play that brings together the rural and urban in a delightful way and promises to be a feast for all the senses (and there's a tractor too!).
For more unexpected treats keep your ears peeled you might just come across some Opera in the Open, a message in a bottle on the lake from PillowTalks Catch of the Day or George Higgs Door of musical inventions.
If you venture into the forest on your travels then be prepared for some unusual, exciting and intriguing encounters with Tree Ladies,Clockwork Birds and electro-acoustic choral event Spindle – late in the evening. Laura Kreifman has made her curious bird creatures from recycled materials and they are hidden around the forest for you to encounter. While Áine Phillips has dressed the trees… literally and Eat My Noise will be there providing a soundtrack for your explorations with their deep moving audio displays.
While you are out there exploring the grounds and what's on offer – keep an eye out for Theatre Lovetts Out and about with Pietr Kloon – he will want to find out what you are getting up to and will most likely make you laugh while doing it. He's a big deal and we are not the only ones who think so – but be ready for him as he's likely to pop anywhere and surprise you with his wit and charm! And if its laughs you're after then please don't miss ponydance, this dance act is a real comedy delight and will have you in rolling around with the giggles.
Don't forget to leave your mark at the festival and make some artworks of your own – head to the information desk for some activities and a Children's trail. (The trail will also be available here soon for download). And of course the day wouldn't be complete without a spot of lunch so whether you're having a picnic on the grass or feasting at the food village we are sure you will be well fed for the day with plenty of yummy healthy child friendly food on offer!
This is just a selection of some of what's on offer and we are sure that whatever you encounter this will be an unforgettable experience – most of all its about having fun – so sing dance and be merry all day at the
BIG HOUSE

cultural carnival!

—