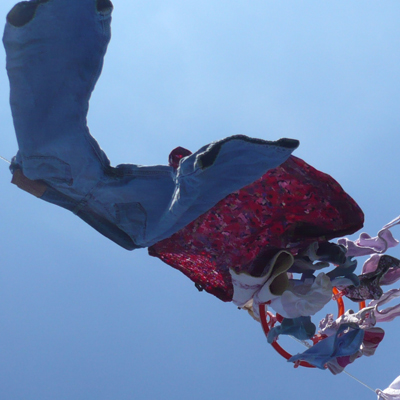 Image courtesy of the artist.
Niamh Lunny: Where is the Washing Line?
"The simplest ideas are usually the most inspired and Niamh's washing line ticks that box. It's clever, playful and beautiful – all at the same time."




- Festival Director.
Did the lords of Castletown air their dirty laundry in public? This playful installation will make you wonder what is worth looking at, and who decides. After all, if you lived in Castletown House, and you needed to dry your bloomers in a hurry, where would you put them? Where is the Washing Line? is a tongue-in-cheek look at the heyday of Castletown when its owners went to great lengths to hide the drudgery of domestic reality from view.
Rear Lawn, All Day, Every Day.
—
About Niamh Lunny
Niamh is Head of the Costume Department at the Abbey Theatre. Her recent design work there includes Shush, The House, The Passing, The East Pier, Arrah na Pogue, The Seafarer, Only an Apple, Blue/Orange, Homelands, Portia Coughlan and I Do Not Like Thee Doctor Fell. She has also worked with companies such as The Performance Corporation, Fishamble, Rough Magic and ANU as well as designing for venues such as The Ark and Olympia. She spent four years as costume coordinator at the Samuel Beckett Centre. Film and television work includes Studs, Dead Bodies, Evelyn, On Home Ground, Anytime Now and Black Day at Blackrock. Niamh is a graduate of Limerick College of Art and Design.
—