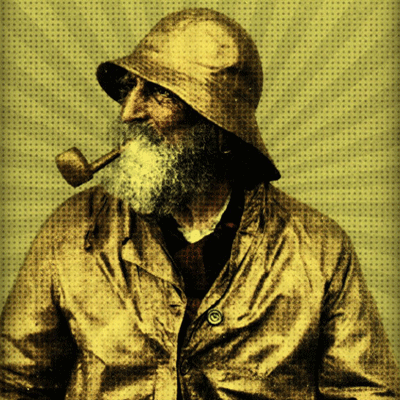 Image courtesy of the artist.
PillowTalk: Catch of the Day
"I think everyone secretly loves the idea of finding a message in a bottle. Now is your chance!"




- Festival Director. 
Why not take a stroll down to the big lake in front of the big house? There might just be a surprise waiting there for you. Meet a fisherman-captain-raconteur-extraordinaire, and listen to his larger-than-life tales and yarns. Floating on the lake in a rickety old row boat, he'll lure you in with stories of voyages past, and invite you to stay for the coloured bottles which dance on the water, and the stories and adventures which lie within them. Pick yourself up a fishing rod and see if you can take home your very own catch of the day, a unique, hand-crafted, message in a bottle.
Lake in the Meadow @ 12.00 – 5.00 Every Day
Praise for PillowTalk
"grabs you from the start and doesn't let go. Thoroughly entertaining theatre" ****entertainment.ie
"exhilarating" **** Sunday Times
This is vigorous and unsettling theatre" **** The Examiner
—
About PillowTalk
PillowTalk was established in 2011 by Director Rosemary McKenna. Since its foundation, the company has collaborated with a range of artists, designers and theatre makers with the objective of creating visceral, imaginative, inspiring work that challenges and excites its audiences.
PillowTalk's recent work includes Anna in Between by Rosemary McKenna and James Hickson (Absolut Fringe Festival), Heroin(e) for Breakfast by Phillip Stokes (10days in Dublin, Smock Alley Theatre), Bedbound by Enda Walsh (New Theatre, Samuel Beckett Theatre), The Living End by Nicole Flattery (10days in Dublin, New Theatre) The Importance of Being Earnest by Oscar Wilde (Samuel Beckett Theatre) The Pillowman by Martin McDonagh (Players Theatre).
Rosemary is currently a director on the Rough Magic SEEDS programme. Assisting credits include Hero by E.V Crowe (Jeremy Herrin, Royal Court Theatre), Improbable Frequency by Arthur Riordan (Lynne Parker, Gaiety Theatre), The House Keeper by Morna Regan (Lynne Parker, Project Arts Centre), Medea trans. Robin Robertson (Selina Cartmell, Samuel Beckett Theatre).
—