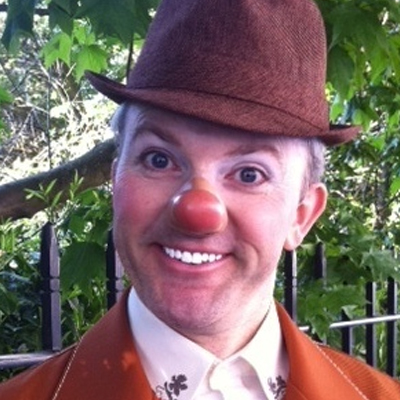 Image courtesy of the artist.
Theatre Lovett: Out and About with Pietr Kloon
"It's always a joy to watch Louis perform. His charm and lightning wit leaves children enthralled and adults in stitches."




- Festival Director.
Get ready. Renowned European chat show host Pietr Kloon is coming to BIG HOUSE. Known for his distinct and only mildly accented interview technique Pietr Kloon is also really famous. You've probably seen him on TV. Surely. He's really famous. This roving reporter gently and painlessly ambushes festival-goers with inane and probing questions in his ongoing investigation of the Irish psyche. His European charm and slow wittedness make him a favourite with his many fans of all ages.
All over grounds @ 12.30 – 5.30 Every Day
—

Theatre Lovett produces theatre for family audiences that engages, entertains and inspires both adult and child, in one show. Recent work includes The House that Jack Filled by Finegan Kruckemeyer (2012 Dublin Theatre Festival) and The Girl who Forgot to Sing Badly (2013 USA Tour). Theatre Lovett were also the original commissioners of B for Baby by Carmel Winters, produced by The Abbey Theatre, winner Best New Play at the Irish Times Theatre Awards 2010 and Louis' performance received a Best Actor nomination. Theatre Lovett are also the 2011 winners in the Arts category of the David Manley Awards, and the overall 2012 winners of the David Manley Emerging Entrepreneur's Award. "With true comic spirit, Theatre Lovett defies all age ranges to appeal to everyone." Irish Independent (The House that Jack Filled).
—