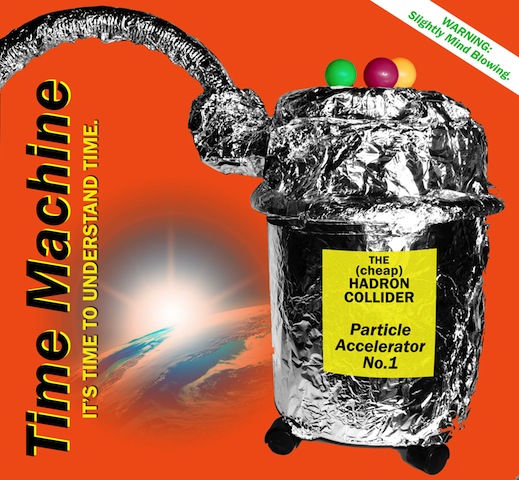 Image courtsey of the artist
Michael Trainor/Pop Empires – Time Machine
"Michael's machine is a delightful stroke of genius." 




- Festival Director. 
Meet the 'Cheap Hadron Collider' – after visiting the world's greatest and most expensive physics experiment (the Large Hadron Collider) in Geneva artist Michael Trainor decided to build his own budget version out of a ping pong table, a vacuum cleaner and 50m of plastic tubing. Admittedly it does not quite reach the speed of light but it has been described as 'quite fast' and you do get to find out all about time, particle physics, how the universe works… and you get to help build it and then play against it!
It has just had its inaugural outing at "The Universe: Explained" event staged by Michael Trainor and legendary post- punk band The Membranes during Manchester International Festival. www.the-universe-explained.org
Stable Wing, Level 1, Coach House @ 5.30 – 7.30 Every Day.
—
About Michael Trainor
Michael Trainor is a professional artist with a long and successful track record of complex projects involving public interaction, with 70 commissions ranging from Liverpool Capital of Cultureto the (ongoing and still touring) Bathing Beauties Project for Lincolnshire County Council. In previous lives Michael has been the owner of a café and a junk shop and later became a TV 'antiques expert' but it is the human stories behind the objects that always interested him. He once sold everything he owned to a museum making him one of the very few people to have all their possessions on permanent display without actually being dead.
He was selected as the Artist Fellow on the Clore Leadership Programme 2011/12. His work often involves light, people, stuff and very long periods of time. He is one of the Trainor Triplets.
—